Travel Brochure Featuring Tourist Attractions in Humboldt County, CA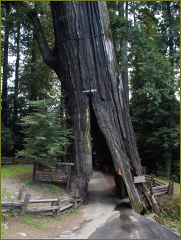 Avenue of the Giants – A Destination Vacation: Is a travel brochure featuring the world-famous scenic drive, which is a 31-mile portion of old Highway 101, that parallels Freeway 101 with its 51,222 acres of redwood groves. It is by far the most outstanding display of these giant trees in the entire 500-mile redwood belt and is accessible to all with convenient services provided along the way. The Avenue of the Giants is surrounded by the Humboldt Redwoods State Park which has the largest remaining stand of virgin redwoods in the world. Take time to browse tourist attractions in Humboldt County, CA, picnic, camp, hike, swim, fish, raft, or bike ride in the cool hush of these ancient redwood forests. Don't miss visiting ROCKEFELLER FOREST, where 10,000 acres of indescribable beauty will surely awe any visitor. There are many trails in this forest, as well as, the 8th, 6th, 4th, and 2nd tallest trees, and the "Champion Coast Redwood" at 370 feet tall! SCOTIA is one of the last "company-owned" towns in California. There is a Historic Logging Museum (open in the summer months) with photos, artifacts, and machinery used in old logging camps.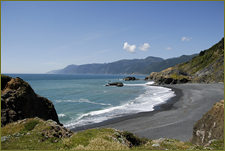 SHELTER COVE The community of Shelter Cove offers an airport, golf course, superb lodging and fine dining, surrounded by beaches, mountains, and outstanding coastal views. Shelter Cove boasts excellent ocean fishing, beachcombing, mountain trail hiking, and other tourist attractions all at your doorstep. While on the North Coast, a visit to Shelter Cove is definitely in order. GARBERVILLE – As highlighted in our travel brochure, this is the main hub of activities and commerce in the Southern Humboldt County area. You'll find a nice variety of eating establishments and a nice selection of lodging. Check out the many unique shops in town. Garberville is just ten minutes from the Avenue of the Giants and about 45 minutes from Shelter Cove. FERNDALE – 21 miles north of the "Avenue of the Giants" discover Northern California's best-kept secret—The Victorian Village of Ferndale. A photographer's paradise and a shopper's delight. Explore the tourist attractions, classic architecture, old-fashioned mercantiles, antique stores, art galleries, and specialty shops and talk with the friendly people.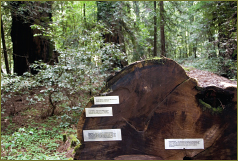 DYERVILLE GIANT – Within Humboldt Redwoods State Park, along the Founders Grove nature trail, are two special examples of the many giant redwoods found near the South Fork of the Eel River. The Founders Tree was dedicated to those who led the drive to establish the "Save-the-Redwoods League". The Dyerville Giant was recognized as the "Champion" Coast Redwood as certified by the American Forestry Association until it fell on March 24, 1991. Before it fell, it was at least 362 feet tall (estimates from two different sources measured it at 370 feet after it fell). That is 200 feet taller than Niagara Falls or comparable to a 30-story building. It is also 17 feet in diameter and 52 feet in circumference. It probably weighs over 1,000,000 pounds.
Mail Me A Free Brochure & Map
For $1.99 FIRST CLASS POSTAGE & HANDLING FEE we will mail you A Free Brochure & Map. Simply click the below button to pay securely using PayPal.
---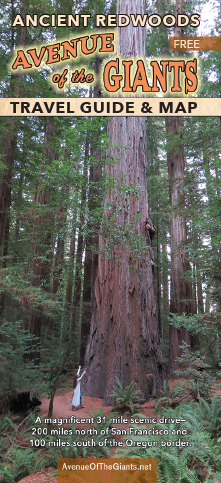 A magnificent 31-mile scenic drive just 5 hours north of San Francisco and 2 hours south of the Oregon border. To request a free brochure and map click here.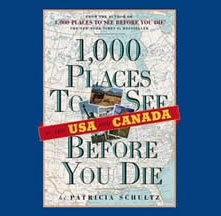 We're very excited to share with you that, Avenue of the Giants has been included in the book, "1,000 Places To See Before You Die."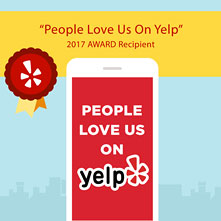 We are thrilled to be an award recipient for 2017 "People Love Us On Yelp" Add your photos and reviews to YELP here