Stay at one of these choice accommodations near the Avenue of the Giants

Stop at one of the RV parks and campgrounds in Humboldt County, CA, to enjoy the tourist attractions. Mile for mile, adventure is waiting for you at the Avenue of the Giants. This stretch of State Route 254, formerly part of US Route 101, is in the middle of Humboldt Redwoods State Park>. Along this road, you will be surrounded by nature's handiwork. Centuries-old giant redwood trees, lush greenery, and untamed wildlife await you.
With so many spectacular things to see along the Avenue, it is no wonder this stretch of road is also home to some of the best RV camping in Redway, CA. This area is rich with tourist attractions, both natural and manmade. Immerse yourself amongst the trees and camp in the brush, or drive along the road and experience the sights at your own pace. Along the way, you will find many places to set up camp or find luxurious lodging. No matter your vacation style, something is waiting for you.
A Brief Overview of Popular Lodging and Camping Sites
The Avenue of the Giants is one of the last places to witness the splendor of giant redwoods. As such, it has become a popular destination for camping and hiking through the redwood forests. Make memories with your friends and family and explore what the roads have to offer.
No matter your vacationing style, the Avenue is your destination for fun and adventure.
For your convenience, we have compiled a list of popular campgrounds, RV sites, and lodges that may be found along State Route 254. You may call each location for booking and travel information, or visit their websites directly. Be sure to check out our recommended places of interest to round out your redwoods vacation!
Contact us to request a travel brochure for the Avenue of the Giants. We are located in Redway, CA.
TOURIST INFO - SOUTH END OF THE AVENUE
Southern Humboldt Chamber of Commerce & Visitor's Center
782 Redwood Drive GARBERVILLE (800) 923-2613
We have information about local attractions, businesses, services, and more. For a complete listing of hotels, restaurants, shops, as well as ideas about what to do in Southern Humboldt please visit: chamber@garberville.org garberville.org
TOURIST INFO - NORTH END OF THE AVENUE
Scotia Chamber of Commerce & Visitor's Center
406 Wildwood Avenue RIO DELL (707) 506-5081
Visitor's Center, redwood gifts, art gallery and WiFi. Mon - Sat: 9am - 5pm
riodellscotiachamber.org
= Located On The Avenue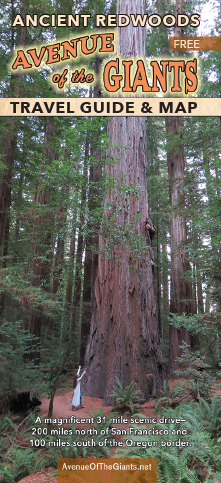 A magnificent 31-mile scenic drive just 5 hours north of San Francisco and 2 hours south of the Oregon border.
To request a free brochure and map click here.
Mail Me A Free Brochure & Map
For $1.99 FIRST CLASS POSTAGE & HANDLING FEE we will mail you A Free Brochure & Map. Simply click the below button to pay securely using PayPal.
---