Visit one of these exciting attractions near the Avenue of the Giants
Lose yourself while you're on out on the West Coast in some of the most beautiful virgin scenery that this area has to offer. Our top tourist destinations in Humboldt County, CA is along the Avenue of Giants, a 31-mile portion of old Highway 101 paralleling Freeway 101, you'll find acre upon acre of redwood groves. Surrounded by Humboldt Redwoods State Park, which features the largest remaining stand of redwoods in the world.
When you traverse this world-famous scenic drive, you are sure to find a wide variety of tourist attractions. We consider it our duty to provide you with all of the information you need to make any of these exciting places of interest your next destination for outdoor fun.
Browse Our Local Camping Locations
All along the Redwood Coast, you'll find a wide variety of delightful camping spots to settle down in after a long day of taking in the beautiful outdoors. Notably, the Dean Creek Resort on the Eel River is just a few minutes from the Avenue of the Giants close to Redway and Garberville. Here you'll find a motel, cabins, RV park, and campground, all of which can surely make your next stay away something special.
Also highlighted in our travel brochures are several of the best biking, fishing, hiking, and swimming spots you are sure to enjoy. Whatever you have an affinity for, you are sure to find a suitable outdoor activity you can sink your teeth into when you browse our extensive travel brochure. No matter what you chose, you'll be enjoying yourself in the cool hush of the ancient redwood forests.
Visit the Briceland Winery for Wine Tasting and Tours
Only 5.5 miles away from Redway, the Briceland Vineyards Winery has been the most awarded maker of Humboldt Wine since 1985. Offering summer wine tasting events from 1:00 p.m. – 5:00 p.m. on Saturdays and Sundays and by appointment all year, you are sure to enjoy yourself while you take in some of the area's beautiful scenery and its nectars.
Whether you're an avid outdoorsman or you wish to enjoy a peaceful time during your journey, you are sure to find something you'll love when you browse the various tourist attractions in our travel brochure. Whatever you choose, you can rest assured you'll enjoy some of the best scenery, sun, and fun the West Coast has to offer.
Contact us to learn more about all of the notable tourist destinations in Redway, California. We proudly serve clients nationwide.
TOURIST INFO - SOUTH END OF THE AVENUE
Southern Humboldt Chamber of Commerce & Visitor's Center
782 Redwood Drive GARBERVILLE (800) 923-2613
We have information about local attractions, businesses, services, and more. For a complete listing of hotels, restaurants, shops, as well as ideas about what to do in Southern Humboldt please visit: chamber@garberville.org garberville.org
TOURIST INFO - NORTH END OF THE AVENUE
Scotia Chamber of Commerce & Visitor's Center
406 Wildwood Avenue RIO DELL (707) 506-5081
Visitor's Center, redwood gifts, art gallery and WiFi. Mon - Sat: 9am - 5pm
riodellscotiachamber.org
= Located On The Avenue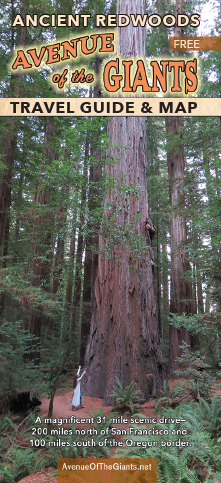 A magnificent 31-mile scenic drive just 5 hours north of San Francisco and 2 hours south of the Oregon border.
To request a free brochure and map click here.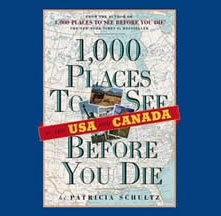 We're very excited to share with you that, Avenue of the Giants has been included in the book, "1,000 Places To See Before You Die."
Mail Me A Free Brochure & Map
For $1.99 FIRST CLASS POSTAGE & HANDLING FEE we will mail you A Free Brochure & Map. Simply click the below button to pay securely using PayPal.
---