Enjoy the Finest Camping Locations in Humboldt County, CA
The West Coast has some of the best outdoor sights and settings you can imagine. There are unbelievable camping locations in Humboldt County, CA, along the Avenue of Giants. This 31-mile portion of old Highway 101 parallels Freeway 101 but has so much more to offer, including the largest remaining stand of redwoods in the world at Humboldt Redwoods State Park. You will find other excellent tourist attractions along this scenic drive with the help of a travel guide from J. Angus Publishing Group.
Relax in Nature
At the end of an exciting day touring the Redwood Coast, settle down and relax in the beautiful outdoors at a delightful campground. Dean Creek Resort is on the Eel River, mere minutes from the Avenue of Giants. Here you can find a motel, cabins, RV park, and campground. 
Our travel map also highlights the best locations for hiking, biking, fishing, and swimming in the area. No matter what your outdoor interests are, you are sure to find one to satisfy while you enjoy the grandeur of these ancient redwoods.
Tasting and Touring
The Briceland Vineyards Winery is only 5.5 miles from Redway. This award-winning winery has been making Humboldt Wine since 1985. They offer summer wine tasting events from 1 to 5 p.m. on weekends and by appointment all year.
As you're a lover of the outdoors who likes to be active, or if you're looking for a relaxing area to explore at your leisure, you can find something along the Avenue of Giants with sun, scenery, and fun. Learn more by reaching out to us for details.
TOURIST INFO - SOUTH END OF THE AVENUE
Southern Humboldt Chamber of Commerce & Visitor's Center
782 Redwood Drive GARBERVILLE (800) 923-2613
We have information about local attractions, businesses, services, and more. For a complete listing of hotels, restaurants, shops, as well as ideas about what to do in Southern Humboldt please visit: chamber@garberville.org garberville.org
TOURIST INFO - NORTH END OF THE AVENUE
Scotia Chamber of Commerce & Visitor's Center
406 Wildwood Avenue RIO DELL (707) 506-5081
Visitor's Center, redwood gifts, art gallery and WiFi. Mon - Sat: 9am - 5pm
riodellscotiachamber.org
= Located On The Avenue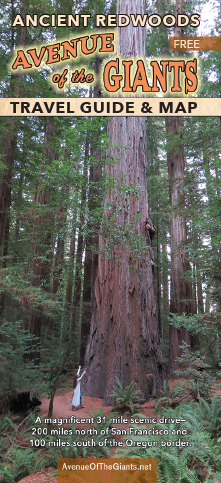 A magnificent 31-mile scenic drive just 5 hours north of San Francisco and 2 hours south of the Oregon border.
To request a free brochure and map click here.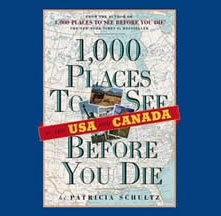 We're very excited to share with you that, Avenue of the Giants has been included in the book, "1,000 Places To See Before You Die."
Mail Me A Free Brochure & Map
For $1.99 FIRST CLASS POSTAGE & HANDLING FEE we will mail you A Free Brochure & Map. Simply click the below button to pay securely using PayPal.
---