Places of Interest in Humboldt County, CA
Our top tourist destinations are along the Avenue of Giants—a 31-mile portion of old Highway 101 paralleling Freeway 101, where you'll find acre upon acre of redwood groves.
When you traverse this world-famous scenic drive, you are sure to find a wide variety of tourist attractions. We consider it our duty to provide you with all of the information you need to make any of these exciting places of interest in Humboldt County, CA, your next destination for outdoor fun.
Here you'll find a motel, cabins, RV parks, and campground, all of which can surely make your next stay something special.
They offer summer wine tasting events from 1:00 p.m. to 5:00 p.m. on Saturdays and Sundays. They also organize wine tasting events any time of the year, by appointment, so you are sure to enjoy yourself while you take in some of the area's beautiful scenery and its nectar's.
TOURIST INFO - SOUTH END OF THE AVENUE
Southern Humboldt Chamber of Commerce & Visitor's Center
782 Redwood Drive GARBERVILLE (800) 923-2613
We have information about local attractions, businesses, services, and more. For a complete listing of hotels, restaurants, shops, as well as ideas about what to do in Southern Humboldt please visit: chamber@garberville.org garberville.org
TOURIST INFO - NORTH END OF THE AVENUE
Scotia Chamber of Commerce & Visitor's Center
406 Wildwood Avenue RIO DELL (707) 506-5081
Visitor's Center, redwood gifts, art gallery and WiFi. Mon - Sat: 9am - 5pm
riodellscotiachamber.org
= Located On The Avenue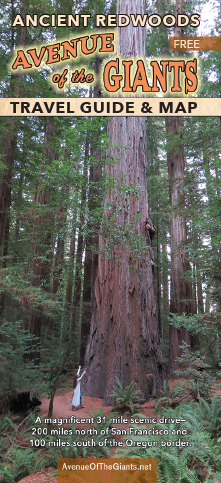 A magnificent 31-mile scenic drive just 5 hours north of San Francisco and 2 hours south of the Oregon border.
To request a free brochure and map click here.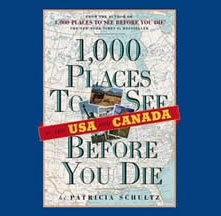 We're very excited to share with you that, Avenue of the Giants has been included in the book, "1,000 Places To See Before You Die."
Mail Me A Free Brochure & Map
For $1.99 FIRST CLASS POSTAGE & HANDLING FEE we will mail you A Free Brochure & Map. Simply click the below button to pay securely using PayPal.
---