Beautiful Campgrounds In Humboldt County, CA, Located Among The Giants
There is nothing quite like standing at the base of a breathtaking redwood tree. Set your camp under this great stand of sequoia and wake to the towering presence of the world's tallest trees. Breathe in the fresh air, damp with the smell of earth and conifers, and revel among old-growth beauty.
There are many ways to spend time in our majestic woods with RV parks and campgrounds throughout Humboldt County, CA. Browse through our list of locations to choose your perfect site.
State Route 254 winds through Humboldt Redwoods State Park and provides travelers and tourists the opportunity to drive among the great trees of the Pacific coast. RV parks and campgrounds along this route welcome travelers and offer a wide range of amenities to suit any family.
The splendor and beauty of Humboldt Redwoods State Park is a must-see. You cannot help but be humbled by nature when you stand at the base of one of these magnificent trees. The Avenue of the Giants is but one of the many attractions outdoor adventurers can enjoy.
Book your stay at any one of the listed campgrounds and start planning your visit. Please get in touch to request a travel brochure of the area's finest attractions.
TOURIST INFO - SOUTH END OF THE AVENUE
Southern Humboldt Chamber of Commerce & Visitor's Center
782 Redwood Drive GARBERVILLE (800) 923-2613
We have information about local attractions, businesses, services, and more. For a complete listing of hotels, restaurants, shops, as well as ideas about what to do in Southern Humboldt please visit: chamber@garberville.org garberville.org
TOURIST INFO - NORTH END OF THE AVENUE
Scotia Chamber of Commerce & Visitor's Center
406 Wildwood Avenue RIO DELL (707) 506-5081
Visitor's Center, redwood gifts, art gallery and WiFi. Mon – Sat: 9am – 5pm
riodellscotiachamber.org
= Located On The Avenue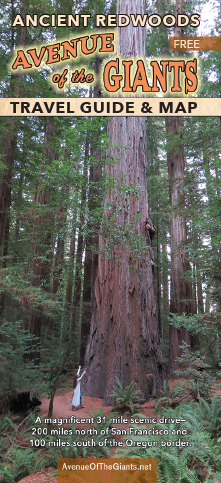 A magnificent 31-mile scenic drive just 5 hours north of San Francisco and 2 hours south of the Oregon border.
To request a free brochure and map click here.
Mail Me A Free Brochure & Map
For $1.99 FIRST CLASS POSTAGE & HANDLING FEE we will mail you A Free Brochure & Map. Simply click the below button to pay securely using PayPal.
---