Stay at one of these choice accommodations near the Avenue of the Giants
TOURIST INFO - SOUTH END OF THE AVENUE
Southern Humboldt Chamber of Commerce & Visitor's Center
782 Redwood Drive GARBERVILLE (800) 923-2613
We have information about local attractions, businesses, services, and more. For a complete listing of hotels, restaurants, shops, as well as ideas about what to do in Southern Humboldt please visit: chamber@garberville.org garberville.org
TOURIST INFO - NORTH END OF THE AVENUE
Scotia Chamber of Commerce & Visitor's Center
406 Wildwood Avenue RIO DELL (707) 506-5081
Visitor's Center, redwood gifts, art gallery and WiFi. Mon – Sat: 9am – 5pm
riodellscotiachamber.org
= Located On The Avenue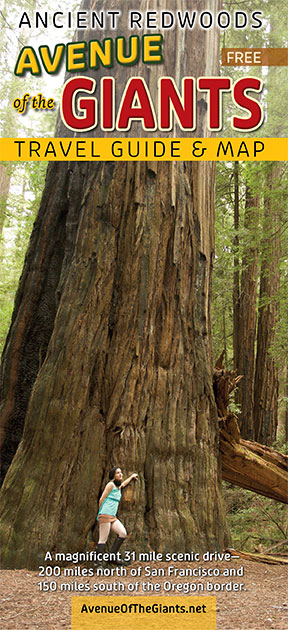 A magnificent 31-mile scenic drive just 5 hours north of San Francisco and 2 hours south of the Oregon border.
To request a free brochure and map click here.
Mail Me A Free Brochure & Map
For $2.50 FIRST CLASS POSTAGE & HANDLING FEE we will mail you A Free Brochure & Map. Simply click the below button to pay securely using PayPal.
---