An Exciting and Informative Travel Map for Humboldt County, CA
ZOOMABLE MAP
When you're setting out on an adventure, it helps to have an idea of where you're going and what you can look forward to along the way. You need a guide of some sort, in other words. Our travel map for Humboldt County, CA, that focuses on the Avenue of the Giants, highlights everything you need to know so that your journey will be a complete success. Following this brilliantly colored and informative map created by J. Angus Publishing Group will make sure you know all about places of interest in the region and don't miss any of them.
Like all good travel publications, this map is jam-packed with interesting attractions, friendly businesses, and welcoming accommodations across this part of Northern California. Once you start studying this map, you will be completely immersed in the potential that it offers for a thrilling vacation. You will learn all about things to do and where to stay. The map is an adventure in itself that will serve to whet your appetite even more for the real thing. No traveler should be without such a trusted companion when they set out to explore this genuinely marvelous part of our country.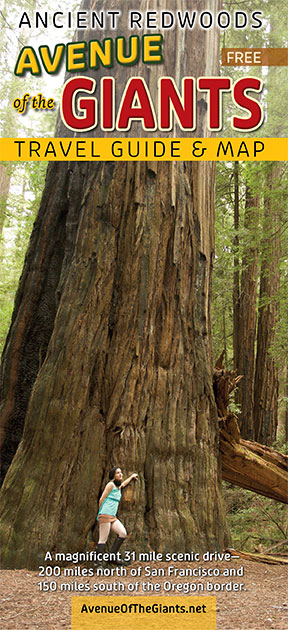 A magnificent 31-mile scenic drive just 5 hours north of San Francisco and 2 hours south of the Oregon border.
To request a free brochure and map click here.
Mail Me A Free Brochure & Map
For $2.50 FIRST CLASS POSTAGE & HANDLING FEE we will mail you A Free Brochure & Map. Simply click the below button to pay securely using PayPal.
---